A meticulous hacking action was carried out yesterday against the Vinci public works group and caused its share price to fall by 18%. Claimed by hacktivists hostile to the French glove, this action could be prosecuted.
This Tuesday, the leaders of the BTP Vinci group lived through difficult times and had to face a skilful operation of destabilization mixed with phishing and social engineering. Several newsrooms received yesterday an email sent from a Vinci.group domain name and correctly written. This indicated that Vinci was going to revise its accounting results for the year 2015 and the first half of 2016, due to errors in accounting entries amounting to 3.5 billion euros, and also to dismiss its financial director. Christian Labeyrie. An email that could seem all the more credible since, in addition to a domain name that did not arouse suspicion, the web link of Vinci's corporate site indicated in the body of the text referred to a mirror site of Vinci, with a few details. The latter indeed provided the real name of the communication manager, accompanied by a false number referring to a person pretending to be the latter.
Deceived, Bloomberg published the information and shook up Vinci's share price, which then fell 18% before recovering to close at -3%. In the meantime, the hackers have played with fire by continuing their destabilization action by once again impersonating Vinci's domain name in order to publish a "real fake" denial stating that "Malicious people have harmed our group by diverting information that has leaked from our offices". What to continue to sow the disorder, before in the end the true communication service of Vinci decides to publish a denial in good and due form. "A fake Vinci press release was published by Bloomberg on November 22 at 4:05 p.m. Vinci formally denies all of the "information" contained in this false press release and is studying all legal actions to follow up on this publication. »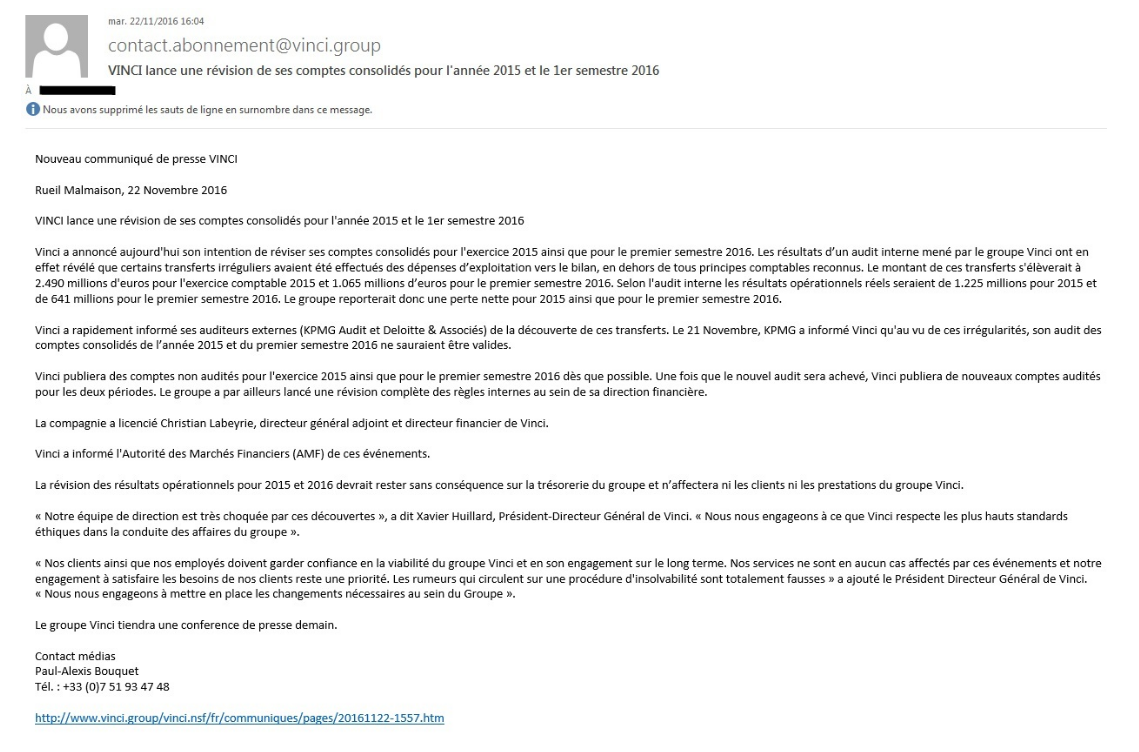 Hacking email sent Tuesday, November 22 to several newsrooms. (credit: DR)
The authors of the hoax reassembled against Vinci
At the end of the day on Tuesday, the hacking was claimed by email without the identity of the authors having been able to be established: "Vinci has just made a vertiginous financial collapse, this is a new act of sabotage against this company. The forest of notre-dame-des-landes itself felt the concrete recede and these occupants celebrated this new blow struck directly in the purse of this concrete monster" [sic]. Other criticisms are also made of the construction group involving Nepalese or Indian workers "who die every day on their construction sites in Qatar […] murders of journalists in Russia for taking too close an interest in corruption around a motorway construction site". And the hacktivists conclude: "Even if his economic empire seems solid, there will always be cracks in the concrete to burst it. If money is their motivation, they will continue to lose money, if their goal is to maintain a good image, they will lose face. Because life is stronger than oppression, diggers and exploitation".